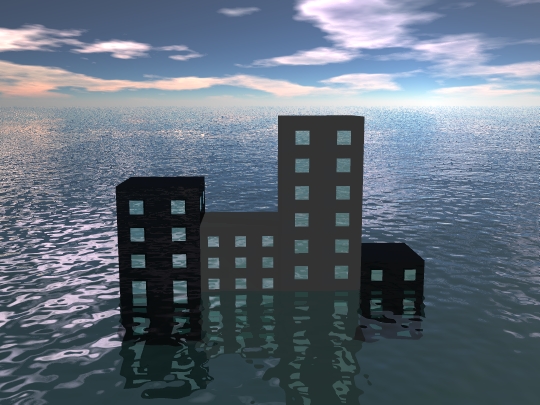 July 18th was Neil and my 9th anniversary. The day started out quite rocky. We had a huge rainstorm, which left our apartment under 1-2" of rain. It was all pouring in through our back door into our living room. The amount of rain was quite amazing, because it came to at least a foot up our back door and sneaked it's way in through the cracks around the door. All we could do was to watch the flood waters rise.
Neil called our landlord to come over and deal with the mess since she just raised our rent substantially. Historically, we would deal with minor inconveniences ourselves because we had a reasonably low rent. No longer! It is now our challenge to spend every penny of the $2,400 rent hike she imposed on us with minor and major repairs. Cue the evil laughter.
Our landlord took our rug to be cleaned and in the process of helping her take it out of the apartment, Neil threw out his back. When he does this, his spine is visibly crooked. One hip is noticeably higher than the other one, and he's in excruciating pain.
After cleaning up the mess and picking Lindsay up from school, we just took it easy and all watched a movie together. Our friend Graham came over to babysit Lindsay and Neil and I went out to eat at
Po
. Po is a restaurant in the village that was opened by Mario Batali. He since sold it and now one has just opened in our neighborhood. The meal was absolutely delicious. We shared a shaved fennel, watercress salad with dried cherry tomatoes, and then I had a pasta with sweet corn and chorizo. We finished off with a panna cotta for dessert with some marinated cherries. It was a wonderful evening, which we extended by having drinks at the
Brooklyn Social Club
.